To create a new employee in Rhabit, start in Configure and select the Users tab. Here you will click Add User. Fill out all the required information about that employee. User Level will be a User for anyone who does not have any direct reports. The User Level will be Manager is they are responsible for a team. The User Level will be Admin if they are going to be heavily involved in all processes of Rhabit. This means they will have access to their team's data and configure their networks.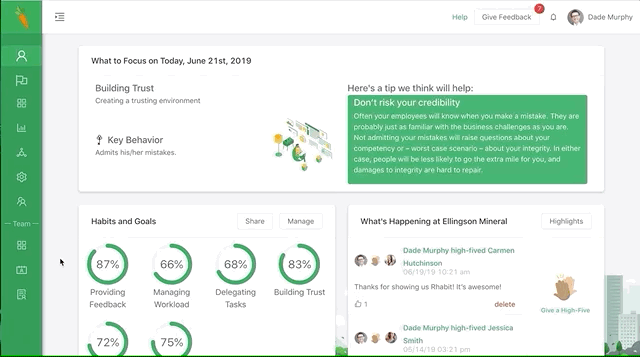 Then select how you would like them to be onboarded. Since they are brand new to the company, they likely don't know who their network will be yet. In this case, you will select Manager Onboard and have you or their manager configure their network for them.
Can Configure allows any user to add, deactivate, onboard, and set up a Rhabit user. However, they cannot see any person's habit scores. Select Yes if you want the new user to have these abilities. Typically, supporting HR specialists have this option set to Yes. Administrators automatically have all permissions that Can Configure users have.
Roles are predetermined by your company and will auto-populate the associated habits for this employee. If the desired role is not listed, please check this section on how to create and manage roles.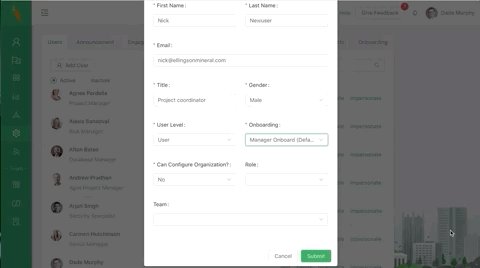 Finally, select the team they will be on from the Team dropdown menu. Note that you have to select a team if Manager Onboarding is selected. If the desired team does not exist yet, please check out this section on how to create a team.
Once you have created the new employee, you will need to activate them by selecting Inactive, finding their name on the list, then pressing activate from the right-side menu. The candidate will be automatically activated when they login to the system for the first time.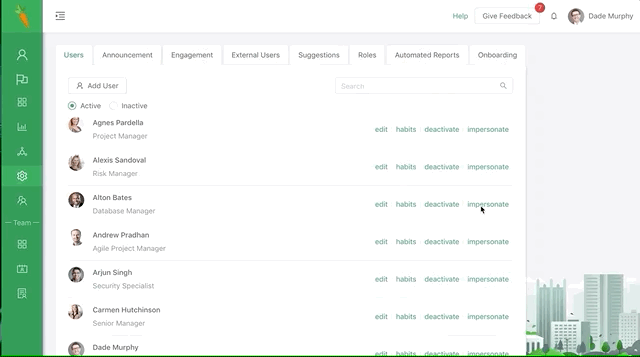 Adding a new user is complete! Onboarding a new user is the next step. Click here for more details.